45+ Different Content Types to Boost Your Search Results and Increase Engagement
One of the biggest hurdles to starting an ongoing website content marketing strategy is finding compelling ways to present information.
To help you get inspired, here's our list of more than 50 different web content formats to try out.
Audio Content Marketing
Audio recordings continue to grow in popularity across a wide range of ages. In fact, between 2020 and 2021, podcast listeners aged 12 and up increased from 57% to 62%, accounting for more than 177 million people in the United States.
1. Interviews
Scoring a one-on-one chat with thought leaders in the field is an excellent strategy for boosting your site's authority and enticing those interested in industry news to check out your content.
The most compelling interviews feel like a conversation, not a script. Be sure to go with the flow as your guests answer questions by asking them to clarify interesting points or letting readers submit their own prompts before the meeting.
2. Podcasts
Starting a podcast is no easy feat, but even a 15-minute weekly show is a fun way to drive traffic to your site. Position yourself as an industry expert with something important to say, and watch the website visitors rush in.
3. Audio Accompaniments
If you've ever watched an episode of Mystery Science Theater, you know how engaging audio commentary can be. Adding accompanying audio content to your website adds another dimension to the written word.
Visual Web Content
Nothing holds a candle to images when it comes to impactful content formats. They tell a story without words, add context to other forms of media, and draw the eye to parts of the web page you want to capture visitors' attention.
4. Photo Galleries
Photo galleries are a prevalent form of visual content amongst aesthetic-driven industries like cosmetics, fashion, and haircare, but that doesn't mean they can't be part of your marketing strategy.
Consider implementing them to showcase past examples of work you've done for customers or share snaps from a recent event.
5. Screenshots
Written content can quickly become overwhelming without something to break up the monotony of reading. Screenshots are a visually appealing and simple way to dress up how-to instructions, provide examples, or emphasize particular sections of video clips.
6. GIFs
GIFs- short for Graphics Interchange Format- is like a hybrid between a photo and a video, with soundless moving pictures that make an excellent demonstration tool for how-tos. They've also become ubiquitous as "reaction" images and memes.
7. Memes
Memes are ideal for funny content, social media, and anywhere else a sense of humor makes sense. While they are great tools to increase engagement, you'll need to stay on top of the ever-churning meme mill if you want to stay relevant.
8. Infographics
One of the most effective ways to break down dense blog posts is to turn them into infographics. It brings together written content and visual content into one highly engaging piece.
You can also create even more appealing interactive infographics with animated elements that entice readers to continue clicking. They're ideal for a website landing page, with enough explanation text to optimize for organic traffic.
9. Graphs, Charts, and Diagrams
Often, numbers can be hard to parse through in text form. Creating graphs, charts, and diagrams helps clarify data by creating a picture out of it.
Interactive Web Pages
Interactive web content invites visitors to get involved with your blog post or landing page by providing elements they can click, slide, and play with while they read.
10. Slide Presentations
By their very definition, slide presentations are meant to summarize large pieces of written content into easily-digestible bullet points. Consider turning your long-form content marketing pieces into slide decks embedded right into the post, allowing users to flip through the information at their leisure.
11. Live Streams
When you combine interactive content with video, it's a recipe for success. Twitch and YouTube have made live streams a normal part of life, so you can capitalize on the content format's popularity by hosting your own video chats that allow you to speak with your audience in real-time.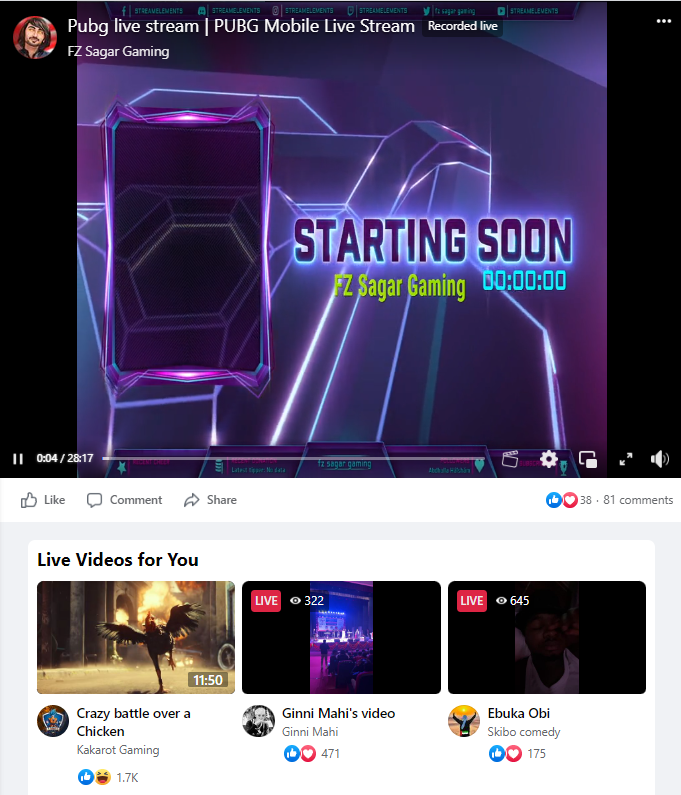 12. Quizzes
A short quiz not only gets the reader interested in your web content but also serves as a jumping-off point for them to explore another blog post or landing page you've linked to.
13. Polls
Site users love sharing their opinion on topics both silly and serious. Host a poll, then share the results.
14. Interactive e-Books
Unlike regular e-books, which typically consist of a stylized PDF, an interactive e-book lets site visitors turn the pages, jump through the table of contents, and zoom in on images.
15. Before/After Sliders
This simple little widget is a fun marketing tool for a business that deals in major makeovers or renovations. You can create a before/after slide to showcase web design work, cosmetics, construction projects, refurbishments, and more.
16. Comparison Pages
One of the most commonly used long-tail keyword terms is "vs.," as in "iPhone 12 vs. iPhone 13" and "Nike vs. Adidas." Comparison pages let website visitors explore the similarities and differences between products and help them decide if upgraded features are worth the extra cost.
Social Media Content Marketing
Social media content can do the trick when SEO isn't enough to get people on your website.
17. User-Generated Content
Gen Z retailers have nailed the user-generated content marketing strategy, thanks to their high reliance on visual-based social media platforms like Instagram and TikTok. Encourage your followers to create content using your branded hashtag in the caption.
18. Discounts
Promotions will always get a ton of attention from your target audience because it's hard to pass up the opportunity to save a little money on products you're already interested in. You can attract a massive click-through rate by sharing promos via social media posts, whether it's an upcoming holiday sale or a discount code.
19. Retweets and Reshares
Your blog posts and how-to articles aren't the only web content you should share. Retweet or reshare others with a mention to help grow your online following and provide your current audience with high-value information as you get your website content strategy off the ground.
20. Forums
If you spend time on Reddit, especially industry-specific subreddits, you can create content by answering people's questions or participating in discussions. AMAs (Ask Me Anything) have gained traction in particular, with notable celebrities addressing user questions in real-time.
21. Blog Posts
Your blog posts will perform better if people know when you post them. Share your web content with an interesting snippet and the link to bring in website visitors from your social media posts.
22. Office Candids
It doesn't have to be business all the time. From holiday parties to casual Monday coffee, show the world that there's a face (or several) behind your brand.
Video Marketing Web Content
Ninety-four percent of marketers agree that video content is where it's at. It builds trust in your brand as an expert, helps communicate your point, and reliably has a higher ROI than other web content.
23. Product Concept Explanations
In 2021, Nintendo Direct gathered 2.5 million people to watch their stream.
Apple's Far Out event in 2022 garnered 4.7 million hours of playtime.
People love product launches and proof of concept, and fortunately, you don't have to be a megacorporation to get attention from your loyal followers when your next launch rolls around.
>> Watch "First Look at Nintendo Switch."
24. Tutorials
No matter how intuitive your product, service, or web pages are, there will always be a few people who don't find the process as easy as others.
Instead of fielding a swarm of customer service calls, take the time to teach everyone how to use your stuff with a tutorial video.
>> Watch "How to view and copy Wi-Fi passwords on your iPhone."
25. Behind-the-Scenes
Instagram and TikTok have blown up with behind-the-scenes videos because it scratches people's natural curiosity for the secrets behind their favorite brands. You don't have to divulge company secrets, but give little sneak peeks into how your business runs.
>> Watch "Behind the Scenes at Men's Spring-Summer 2020 Show."
26. Demos
Demos are great for new software launches, especially when you market them beforehand. In doing so, people get a chance to learn the process before receiving the product, making them even more excited to jump in right away on deployment day.
>> Watch "Pixie Product Demo."
27. 360-Office Tours
Still a little camera shy? Skip the speeches and scripts in favor of a panoramic, interactive 3-D office video.
>> Watch "360° Video: Buckingham Palace Tour – BBC London."
28. Helpful Hints
Share your brilliant mind with the world by offering helpful hints in your field of interest. People will appreciate the insider information and likely come back to you for more hidden how-to advice.
>> Watch "50 HUGE Helpful Tips for Red Dead Redemption 2!"
29. Webinars
There's no denying that a webinar is quite the undertaking, but it's worth your effort if you want to promote your brand while demonstrating that you know what you're talking about. Send out invites, accept RSVPs, and offer a recording of the class behind a content gate once the event is over.
>> Watch "Screen Recording Tools Comparison."
30. Whiteboards
Whiteboards are fun, animated web content that doesn't require a fine arts degree to create. The simplistic art style and narrative-driven are view magnets.
>> Watch "A Whiteboard History of Storytelling."
Blog Content Marketing
If there were one method that we would encourage every business to embrace, it would be running a regularly updated blog.
Here's why:
Optimized, organic content drastically boosts your presence on search engines, especially when it's valuable enough for website visitors to share with others.
It opens limitless opportunities to experiment with different formats and content types.
You can appeal to your buyer personas with the information and web content they want to see the most.
Blog posts give your business personality, reinforce your branding, and showcase your expertise.
Earning backlinks from other blogs in your industry is one of the best methods to increase awareness and build your website authority.
It's an excellent funnel to collect information through CTAs and gated resources.
31. Customer Success Stories and Testimonials
What better way to prove that your product or service is worth looking into than real-life customer success stories? These blog posts should be less formal than case studies and instead focused on showing your target audience what they can expect by tossing their hat in with your business.
32. Press Releases & Company Updates
Did you meet one of your long-term business goals? Make a media appearance? Drop a press release? It's great to share that information on your website for internal linking and social media sharing purposes.
33. How-Tos
What better way to show off how much you know about a topic than to create an easy-to-follow, informative how-to for your visitors to follow? This content type is ideal for marketing your expertise on your website while still providing tangible value to users.
34. Q&A
Like FAQs, a question-and-answer post targets long-tail keywords. These are relatively short, manageable pieces of content to help you establish your business website as an authority in the field.
35. Listicles
Listicles are fast, easy reads that provide some form of information or entertainment with less focus on depth and more on the general ideas of a concept. Buzzfeed is famous for its listicle-heavy content.
36. Guides
Walk your website visitors through the step-by-step process of getting something done. There are nearly infinite topics for this type of post, from making peanut butter and jelly sandwiches to learning Java.
Bonus points for including helpful images in your post that give learners a visual model to accompany the written instructions.
37. Long-Form Narratives
Running a small business is a deeply personal, often emotional experience. Take the time to express the good, bad, and ugly on topics that impact you.
38. Short-Form Informational Content
Not everything you post has to be thousands of words. Something as simple as defining industry lingo or giving a quick recap on recent product updates can be enough to keep site users engaged.
39. Statistics
It's hard to argue with numbers, especially when cited from multiple sources that have all reached similar conclusions. Make a poignant point and get noticed by search engines by highlighting compelling statistics your visitors might be looking for.
40. Curated Content Creator Lists
Take a quick browse through your "Following" list on Twitter, Facebook, Instagram, and YouTube, then put together your curated selections for industry insights, entertainment, and resources.
41. FAQs
FAQs are the way to go if you want to rank for long-tail keywords. Start by searching keywords relevant to your website content, look at the "People Also Ask" section, and address those questions from a unique perspective while adding additional, high-value information that expands on the existing snippet.
42. Shopping Guides & Product Recommendations
In most cases, a small business won't want to send a visitor off-site for product recommendations. Instead, create a holiday shopping guide based on your e-commerce shop or earn extra cash with affiliate links to Amazon.
43. Certifications and Awards
Winning a business award or earning a certification is big news. Create a post for your website to share the achievement with your followers, along with images of your certificate or site badges.
44. Guest Posts
Cultivating a healthy guest posting routine is invaluable for creating a high-authority domain. Seek opportunities to share a piece of your content off-site in exchange for a different creator sharing theirs on your site.
45. Quotes
Quotes are always a safe bet if you're struggling to cook up content. They hit tons of keywords, they're easy to find, and people love sharing them. Create a few shareable images, discuss what the quote means to you, and you're done.
46. Checklists
Cook up a one-page reference checklist that your site visitors can print out. It's a high-value resource, so you might try putting a content gate in front of it in exchange for growing your email list.
47. Templates
Have you perfected a process or squared away a spreadsheet that you think other people would find helpful? Post it up on your website, and the next time someone searches for tools to solve their problem, they just might end up on your blog posts.
48. Case Studies
Expound on the points you made in the customer success story by sharing screenshots, video clips, testimonials, data, diagrams, and narratives in one multimedia case study presentation.
49. White Papers
White papers encompass the final push to close a sale. They typically include a list of benefits for choosing your product over someone else's or service perks you offer, which your competitors don't.
Wrapping Up
Content is crucial for bringing in organic traffic and attracting search engine attention, but creating it is a time-consuming, frustrating process.
Let NATIV3's expert content creation team handle it for you. From blog posts to newsletters, we'll curate a finely-crafted content strategy that fits your needs and your budget.