An In-Depth Guide to the Web Development Process
A few years ago, we took on the task of creating a 5-part article series on the importance of website development and the role it plays in boosting your business, your brand, and your profits.
In the world of digital, though, things change quickly. Between 2018 and 2021, there have been shifts in technology and marketing that no one could have predicted, much less implemented into their website development plan.
What's Changed Since 2018?
We're numbers people. We like to see the data before we make decisions.
Fortunately, there's no shortage of evidence that web development and design is an absolute quagmire of constant changes in consumer behavior, expectations, and priorities.
Mobile traffic continues to rise.
In 2018, mobile browsing took up around 53.42% of all website traffic. In 2021, that's up to 56.12%.
While it's not a meteoric rise (like the jump from 13.90% in 2013 to 25.02% in 2015), it is indicative of an ongoing trend we've seen since 2011: more and more web browsing takes place on phones and tablets.
So, what's the implication for web development?
It has to be responsive across the entire range of devices– Android, Apple, whatever. If a customer struggles to interact with your site because it's not responsive, you're missing out on sales.
In fact, 85% of adults think that a company's mobile site should be as good or better than their desktop site. Pinching and zooming is no longer an option.
People are spending less time on mobile and desktop websites.
Bounce rates, regardless of mobile or desktop website access, are increasing while onsite time is decreasing.
While desktop sites saw a slight uptick in onsite time in 2020, mobile is consistently dropping.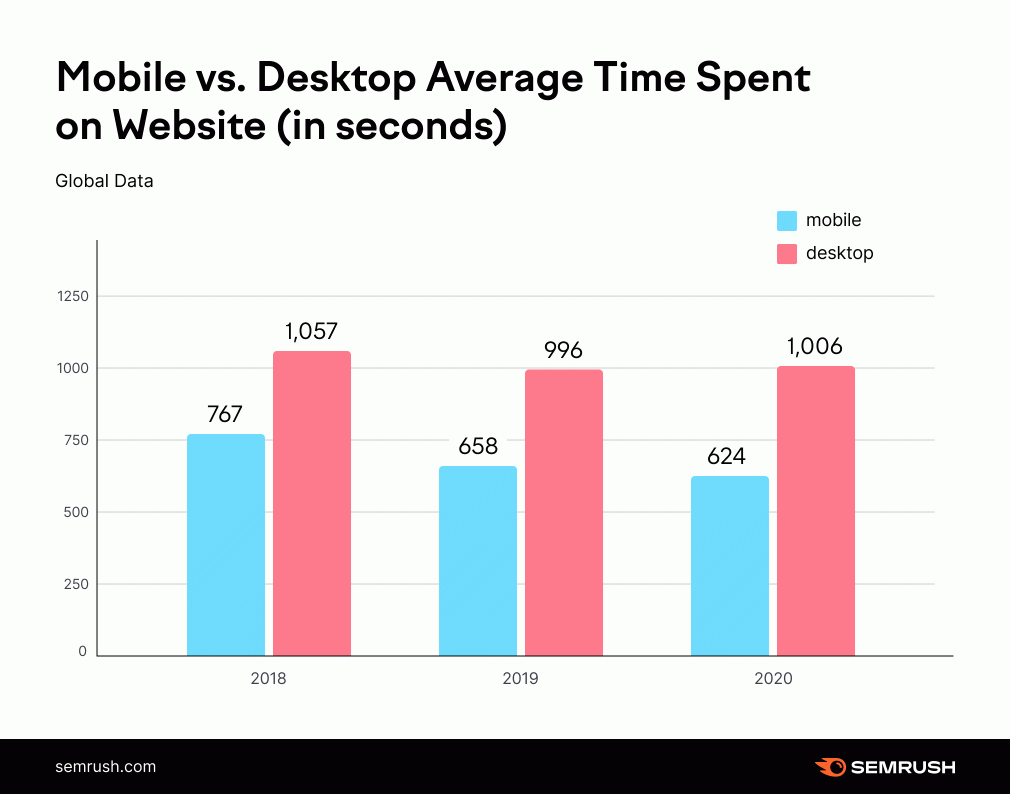 According to SEMRush,
From 2018 to 2020, visits via mobile devices had a 3% higher average bounce rate than desktop, but this gap had narrowed to only 0.2% by the end of the year, which suggests that brands need to do more to engage increasingly demanding and device-agnostic users coming from SERPs.
E-commerce retail sales are booming.
People want to shop online. In the last 3 years, e-commerce jumped from $2.280T in 2018 to an estimated $4.891T in 2021 and expected to hit $6.38T by 2024.
And the pandemic isn't the only catalyst. While it created a huge jump of nearly $1T dollars between 2019-2020, there was still an uptick of $400M between 2018-2019.
Expectations for page load times are sky-high
As if there wasn't already enough pressure for you to have a beautiful website, consumers are also expecting it to be nimble.
First impressions matter, especially when it comes to website design aesthetics
It can't all be function over form. Visitors want easy-to-use, lightning-fast, and beautifully designed. Only then does a business site hit the elusive trifecta that makes people come back for more.
A survey by Adobe found that 38% of people will simply leave a website if the content or layout is not attractively done.
Blue Corona found that 48% of people say that the design of a site is the determining factor in whether or not a business is authentic and credible.
It becomes increasingly obvious that the web development and design process requires insight into some pretty complicated concepts.
Working knowledge of design trends, consumer concerns, and web optimization is required to fold everything that your visitors are looking for into a neat package.
Your Online Success Depends on Your Web Development Process
With the internet clearly showing no signs of losing its popularity, and for good reason, more and more companies are going to continue to migrate at least portions of their business into the proverbial e-commerce arena.
Politicians are going to invest less in traditional campaigning and more on social media, organic, and email marketing.
Non-profits, individuals, and anyone else who has something to say is going to start saying it online.
2020 proved that businesses were capable of taking many of their processes into the digital world, proven by the fact that 70% of full-time workers in the United States were able to work from home during the pandemic.
The nature of the best made for a lot of clumsiness and fumbling as businesses scrambled to make the move online as quickly as possible.
With the hard part done, the time has come for those processes, platforms, and websites to be optimized, beautified, and taken to their fullest potential.
And that's where web developers and designers shine.
Unfortunately, there is a wide-reaching misconception that developers just throw some code together and you're blessed with a beautiful site, but that's never the case…
Unless you're working with the mythical Web Devin the Code Wizard. But his costs are astronomical, and he's always late for his deadlines.
For the rest of us, coding is like the icing on a cake. Without a vision, a good cake recipe, and a successful execution of that recipe, frosting is useless.
Over the next few weeks, we hope you'll tune in and learn more about everything web development and design, from the fundamentals to the final product.
During that time, you'll learn more about:
Website Development Fundamentals, Vocabulary, and Jargon
What Kinds of Web Development Services are There?
Web Design
The Web Development Process
Discovery, Research, and Goal Setting
Building Your Blueprint
Coding the Backend and Frontend
Should I Use a CMS?
Launch and Maintenance
The Role of Continued Optimization
If you're going to invest the time and money into web development, it only makes sense that you understand what's happening. Any great agency is going to invite their clients to be an active participant in the process because that's how everyone gets what they want and what they need.
When you're ready, we look forward to answering your questions, exploring your vision, and eventually, working with your team. We're no Web Devin the Code Wizard, but we can still create a little magic.